Download the Registration Form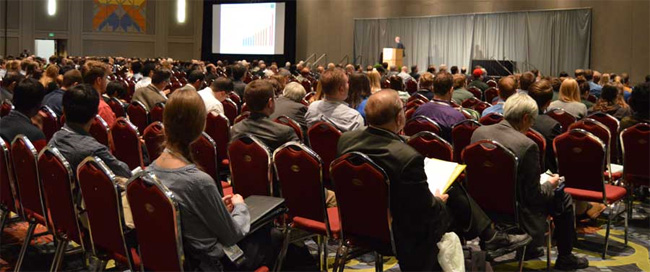 Now in its 14th year, MS&T hosts over 3,200 attendees, more than 2,000 presentations, a robust plenary speaker lineup, society based special events, and a collaboration among five leading materials science societies. If you work in any facet of materials science, this is the conference for you.
The MS&T technical program is unmatched, addressing structure, properties, processing, and performance across the materials community. MS&T brings together scientists, engineers, students, suppliers, and business leaders to discuss current research and technical applications, and to shape the future of materials science and technology. To view the plenary lectures for MS&T18, click here. To view our workshops and short courses, click here. For a complete schedule of events, click here.
In addition, the exhibition showcases a wide variety of equipment and services to the automotive, aerospace, instrumentation, medical, oilfield, and energy industries. And during your free time in the nation's 14th largest city, enjoy all there is to see, do, and eat in downtown Columbus, Ohio.
MS&T is organized in a joint partnership of the five leading materials science-related societies – ACerS, AIST, ASM International, MetSoc, and TMS.
Learn more about the organizing societies here.
ORGANIZING SOCIETIES

CO-SPONSORED BY

Future Dates and Locations:
MS&T18 - October 14-18, 2018 - Columbus, Ohio.
MS&T19 - September 29-October 3, 2019 - Portland, Ore.
MS&T20 - October 4-8, 2020 - Pittsburgh, Pa.