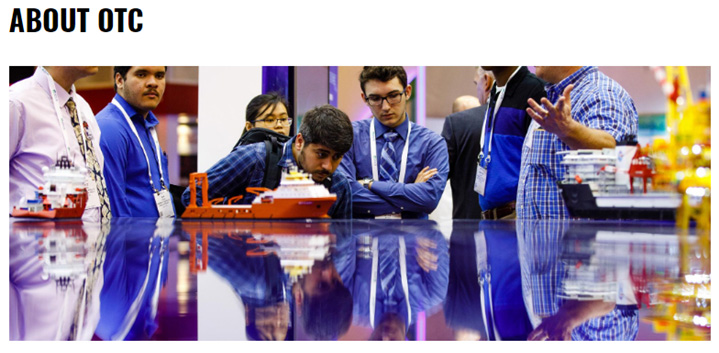 The Offshore Technology Conference (OTC) is where energy professionals meet to exchange ideas and opinions to advance scientific and technical knowledge for offshore resources and environmental matters.
Celebrating 50 years since 1969, OTC's flagship conference is held annually at NRG Park (formerly Reliant Park) in Houston. OTC has expanded technically and globally with the Arctic Technology Conference, OTC Brasil, and OTC Asia.
OTC is sponsored by 13 industry organizations and societies, who work cooperatively to develop the technical program. OTC also has endorsing and supporting organizations.
Top Reasons to Attend

Justify Your Attendance

Quality: 350+ peer-selected technical presentations, leveraging *13 societies' collective knowledge and covering topics from the wellbore to topsides and everything in between.
Value: 500,000+ sq. ft. of exhibit space with ground-breaking innovations and 2000+ leading providers of products and services in one place, at one time.
Networking: 70,000+ energy professionals from 100+ countries are there.
Always Something New: Connect with global C-suite leaders and 100+ speakers to discover what innovations we can expect over the next 50 years.
Media Exposure: 300+ journalists from around the world attend OTC.
Investing Back in the Industry: OTC's 13 sponsoring organizations use revenue to provide many other important programs for its members, such as training and technical journals.
In the World's Energy Capital: Combine OTC with client meetings, business proposals, and company training.
Top US trade Show: TSNN ranks OTC as the no. 25 event.


Learn more

.

Offer to prepare and deliver a short presentation to your colleagues to share what you learned. That way, others on your team will gain the benefits of your attendance.
Be ready with a plan that shows who will cover for you while you are attending the conference.
Offer to share a room to reduce hotel expenses and/or utilize our complimentary hotel shuttle service at official hotels to avoid renting a car.
Share presenter handouts and exhibiting companies' materials with your colleagues.
If you are a member of one of OTC's sponsoring, endorsing or supporting organizations, you can take advantage of discounted registration.


Check out the OTC Justification Toolkit for resources to help you save time and money.